Goulash is a hearty dish that is perfect for chilly fall days and cold winter evenings. It is also an easy and affordable dish.
You'll notice that you've been given a choice between ground chicken and ground pork. The choice here is dependent on your taste and diet. The chicken will provide less fat but ground chicken usually has more sodium. Ground pork, surprisingly, has very little sodium but will have a higher fat content. (By the way, we are talking ground pork here, NOT sausage)
The best part of this recipe is that you can customize the spice to your liking. Add some red pepper flakes for a little heat. Maybe add in some basil. Whatever you like, make it your own!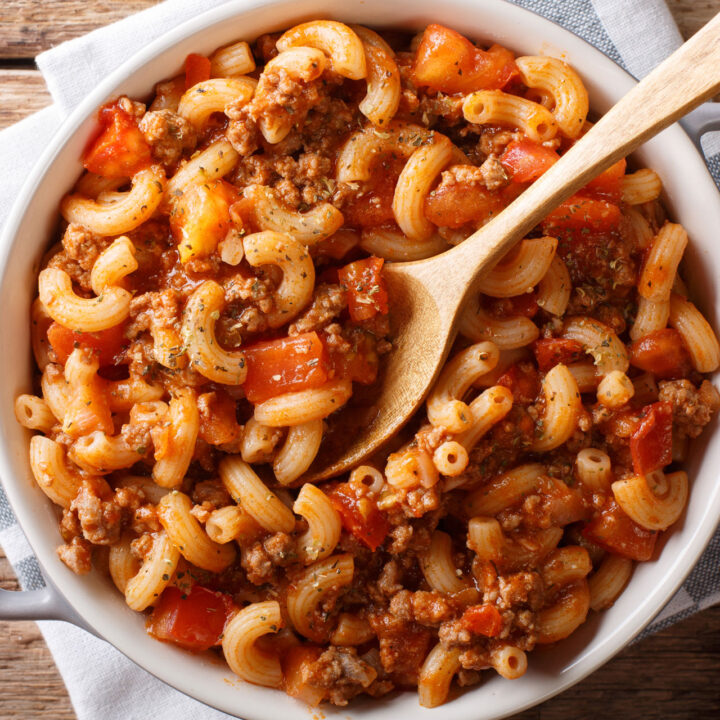 Low Sodium Goulash
Goulash is a hearty dish that is perfect for chilly fall days and cold winter evenings. It is also an easy and affordable dish.
Ingredients
1 pound of lean ground beef
1 pound of ground pork or ground chicken (your choice!)
1 box (16 oz.) of elbow macaroni
2 cans (28 oz.) of no-salt-added diced tomatoes
2 can (15 oz.) of no salt added tomato sauce
4 tablespoons of minced onion flakes
4 tablespoons of a salt-free Italian seasoning blend (options below)
2 cloves chopped garlic
2 tablespoons of olive oil
Instructions
In a Dutch oven, warm olive oil, minced onion, and chopped garlic in the bottom of the pan and stir occasionally until the onion and garlic are fragrant.
Place beef and chicken or pork into the pan, sprinkle 2 tablespoons of seasoning over the meat, and begin to brown the meat.
When the underside of the meat begins to brown, flip the meat and sprinkle the remaining seasoning on the meat.
Once the meat is no longer pink, add diced tomatoes and tomato sauce to the pan.
Stir well and place the lid on the pot, lower heat, and allow the meat and tomatoes to simmer for about 15 minutes.
While that is simmering, cook your pasta in unsalted water (you might want to slightly undercook your pasta because it will continue to soften up when added to the tomato and beef mixture).
Add cooked elbow macaroni into your Dutch oven and stir well.
Place lid on the pot and simmer for one hour, stirring occasionally.
Notes
I have found that seasoning the meat seems to bring out the flavors better than adding the seasoning to the tomato sauce.
If you are like me and prefer a little heat, add some Ro-Tel No Salt Added Diced Tomatoes and Green Chilies
You can choose either crushed tomatoes or diced tomatoes, totally your preference. Crushed will be smooth, while diced will be chunky.
Recommended Products
As an Amazon Associate, I earn from qualifying purchases. For complete information please read the disclosures page (link at the bottom of this page).
Nutrition Information
Yield

10
Serving Size

1
Amount Per Serving
Calories

350
Total Fat

19g
Saturated Fat

6g
Trans Fat

0g
Unsaturated Fat

11g
Cholesterol

92mg
Sodium

130mg
Carbohydrates

16g
Fiber

4g
Sugar

5g
Protein

30g
Nutritional information is provided as an estimate. Nutritional content may vary due to several factors such as how much of an ingredient is used vs. how much will actually be eaten, brand differences, and more. To ensure the most accurate nutritional information, the reader should make calculations based on the ingredients actually used, using their own preferred method, or consulting with a licensed nutritional expert. This Website is not intended as a source of nutritional or food safety advice, and its readers assume full responsibility for any decisions made regarding their own health and safety. Nutritional information calculated by Nutritionix