This meatloaf is so full of flavor, it is hands down the best low sodium meatloaf you've ever had. Most meatloaf recipes use Italian breadcrumbs, which add excess salt. The binder in this recipe is sodium-free quick cook oats. This not only adds fiber to the loaf, but it significantly reduces your salt intake.
I encourage you to play around with the peppers. Personally, I typically omit the green peppers and double up on the red peppers. So test out what pepper mixtures taste best to you!
Let's Talk Bison
What makes this recipe unique, besides the inclusion of oats, is the use of bison meat. There are numerous reasons to choose bison meat for your low sodium meatloaf.
Bison is leaner than beef; it is signifantly lower in saturated fat and has almost 25% fewer calories.
Bison has more protien than beef
There are potential benefits to the environment as bison produce less greenhouse gas than cows
If you haven't had bison before, you'll be happy to learn that bison isn't "gamey" at all. Compared to beef, bison is lighter, coarser, and tastes slightly sweeter.
So where can you find ground bison? What used to be a difficult task is now much easier. Many supermarkets now carry ground bison meat. On a national level, Walmart carries ground bison in one-pound packages.
If you are taking medication for high blood pressure, you will want to talk with your doctor or pharmacist about whether you can have no-salt-added ketchup. Hines makes "salt-free" ketchup but it uses a potassium-based salt substitute, which might not be safe for everyone. In this recipe, I used a Walmart ketchup that has 50% less salt and sugar. Sprouts also carries ketchup that has half the salt and sugar of regular ketchup.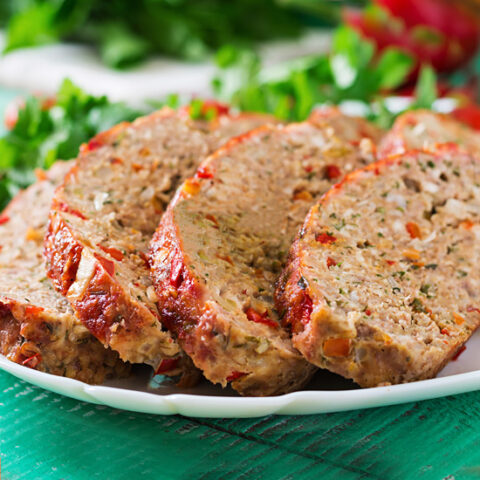 Low Sodium Bison Meatloaf
Total Time:
1 hour
10 minutes
Meatloaf is THE definition of comfort food. This low sodium meatloaf recipe is so easy to prepare that it will become your family's go-to weeknight dinner.
Ingredients
1 1/2 pounds of ground bison (or beef)
1 teaspoon of olive oil
1 clove of garlic
1 tablespoon of dried onion flakes or 1/2 cup of fresh chopped onion
1/4 teaspoon of thyme
1/2 cup of quick oats
1/3 cup of milk
1/4 cup of shredded carrots
1/4 cup of diced red pepper
1/4 cup of diced green pepper
1/2 cup of low salt ketchup
1 egg
1 tablespoon of Westbrae no-salt-added stoneground mustard
Instructions
Preheat your oven to 350 degrees.
Using olive oil, saute onion, garlic, and thyme in a saucepan over medium heat.
In a large bowl mix oats, milk, carrots, peppers, ketchup, egg, mustard, plus ingredients from your saucepan.
Stir together all ingredients until combined.
Add your ground meat and gently fold until ingredients are thoroughly distributed. About 15 turns of the meat. Don't over mix! It will toughen the texture of your meatloaf.
Spray a non-stick loaf pan with a cooking spray. If you are using high-fat meat like 80/20 ground beef, you will want to line the bottom of your pan with two pieces of bread to soak up the fat. If using bison, you can skip this step.
Place your meat mixture in your prepared loaf pan. Cover top with a light coating of low salt ketchup.
Bake at 350 degrees for one hour or until the internal temperature reaches 160 degrees.
Notes
If you use ground beef, you may wish to line the bottom of your pan with two slices of bread. This will serve as a sponge working to soak up the excess fat. If you use bison, you do not need to do this because bison is much leaner.
Don't overmix your meatloaf! Overmixed meatloaf may turn out crumbly. 
Recommended Products
As an Amazon Associate, I earn from qualifying purchases. For complete information please read the disclosures page (link at the bottom of this page).
Nutrition Information
Yield

8
Serving Size

1
Amount Per Serving
Calories

258
Total Fat

15g
Saturated Fat

6g
Trans Fat

0g
Unsaturated Fat

7g
Cholesterol

95mg
Sodium

133mg
Carbohydrates

8g
Fiber

1g
Sugar

3g
Protein

22g
Nutritional information is provided as an estimate. Nutritional content may vary due to several factors such as how much of an ingredient is used vs. how much will actually be eaten, brand differences, and more. To ensure the most accurate nutritional information, the reader should make calculations based on the ingredients actually used, using their own preferred method, or consulting with a licensed nutritional expert. This Website is not intended as a source of nutritional or food safety advice, and its readers assume full responsibility for any decisions made regarding their own health and safety. Nutritional information calculated by Nutritionix