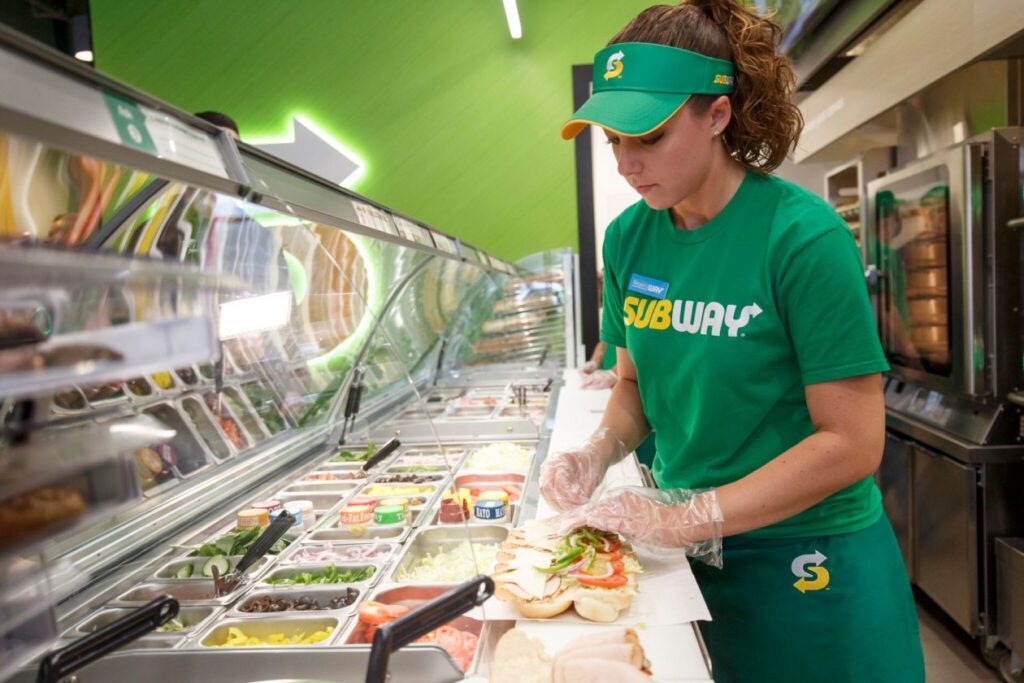 IS IT POSSIBLE TO EAT LOW SODIUM AT SUBWAY? HERE'S YOUR GUIDE TO LOW SODIUM OPTIONS ON THE SUBWAY MENU.
With more locations than any other quick-service restaurant, Subway® is the largest restaurant chain in America by store count. Given the volume of stores, a common question is whether there are low sodium Subway options.
Subway offers a variety of lower-sodium menu items, making it possible for you to stay low sodium. But you must be disciplined – and educated – because there are a lot of add-ons (most of the condiments) and a few hidden sodium shockers (Roasted Garlic bread) that can quickly turn your order into a dangerously high-salt meal.
All of the items reviewed for this story appear on the national menu. The menu at your local Subway might offer additional items but if it is listed below, you can be sure it is available nationwide.
On July 13, 2021, Subway launched its "Eat Fresh Refresh" which represents the largest menu overhaul in the company's 56-year-history. The entire core menu was refreshed with more than 20 updates, 11 new or upgraded ingredients, six all-new or returning sandwiches, and four revamped signature sandwiches. This story was updated to evaluate all of these new options.
Nutritional values are listed in milligrams (mg) of sodium.
BREAD
The first part of any Subway Sandwich is the bread. Which bread you choose can set you up for success in creating a low sodium meal. Bread, in general, is packed with salt but the sodium content in Subway's bread varies wildly.
Good Choices
9-Grain Wheat: 270 mg for a 6-inch / 540 mg for a Footlong
9-Grain Honey Oat: 270 mg for a 6-inch / 540 mg for a Footlong
Moderate Choices
Artisan Italian Bread: 310 mg for a 6-inch / 620 mg for a Footlong
Artisan Flatbread: 290 mg for a 6-inch / 580 mg for a Footlong
Items You Must Avoid
Roasted Garlic: 1230 mg for a 6 inch / 2460 mg for a Footlong. This bread should be renamed Roasted Salt bread because 12 inches of just this bread exceeds your maximum daily sodium intake. And that's before you add any ingredients to your sandwich!
Italian Herbs & Cheese: 500 mg for a 6 inch / 1000 mg for a Footlong
Wraps! Their spinach wrap and tomato basil wrap each pack a salty punch with 780 mg and 730 mg of sodium respectively.
INDIVIDUAL PROTEINS
This list represents only the ingredients of your sandwich. Sodium values below need to be added to your bread selection.
Good Choices
Chicken Strips: 210 mg for a 6-inch / 420 mg for a Footlong
Roasted Chicken Patty: 280 mg for a 6-inch / 560 mg for a Footlong
Rotisserie-Style Chicken: 280 mg for a 6-inch / 560 mg for a Footlong
Moderate Choices
Tuna: 300 mg for a 6-inch / 600 mg for a Footlong – Note: While moderate in sodium, the Subway Tuna sandwich contains the highest fat content on their menu with 23 g of fat for a 6-inch and 46 g of fat for a Footlong. According to the Mayo Clinic, your target range for total fat is 44 to 78 grams a day if you eat 2,000 calories per day.
Turkey Breast: 380 mg for a 6-inch / 720 mg for a Footlong
Items You Must Avoid
Cold Cut Combo Meats: 710 mg for a 6-inch / 1420 mg for a Footlong
Meatballs: 810 mg for a 6-inch / 1620 mg for a Footlong
Italian B.M.T.® Meats: 890 mg for a 6-inch / 1780 mg for a Footlong
Spicy Italian Meats: 900 mg for a 6-inch / 1800 mg for a Footlong
"CALI FRESH" Turkey: 990 mg for a 6-inch / 1880 mg for a Footlong
"CALI FRESH" Steak: 1000 mg or a 6-inch / 2000 mg for a Footlong
CHEESE
Good Choice
Unfortunately, not all Subways carry the holy grail of low sodium cheese: Swiss. If your Subway does, lucky you! That cheese choice will clock in at 30 mg for a 6-inch and 60 mg for a Footlong. But if you are like most people and can't get Swiss cheese at Subway, there really aren't a ton of great choices. Truthfully, your best choice is to skip the cheese.
Moderate Choice
Shredded Monterey Cheddar: 90 mg for a 6-inch and 180 mg for a Footlong
Items You Must Avoid
Everything else! All other cheeses deliver in excess of 100 mg of sodium for a 6-inch. Double that content for a Footlong.
VEGETABLES
Raw vegetables typically are low in sodium. So layer on the veggies. But avoid the following items from the veggie bar: pickles (115 mg of sodium for just 3 chips) and olives (25 mg of sodium for only 3 rings).
CONDIMENTS
As you may know, sauces can sabotage your meal by adding a lot of unwanted sodium. Therefore, use sauces and dressings sparingly. Here are the sauces you can choose at Subway with little (under 100 mg) to no sodium.
Oil: 0 mg
Red Wine Vinegar: 0 mg
Regular Mayonnaise: 65 mg for a 6-inch / 130 mg for a Footlong – Note: Regular mayo has 35% less salt than light mayo but double the calories and more than double the fat content. In general, it is best to avoid mayonnaise but it is true that the real stuff is less salty than the light version. That's because when they lower the fat content to create the light mayo, they add extra salt to "improve" the taste.
Honey Mustard: 80 mg for a 6-inch / 160 mg for a Footlong
SALADS
For the most part, a salad will be a wise choice at Subway. By eliminating the bread, you significantly lower the sodium content. Sodium values include protein plus lettuce, spinach, tomatoes, onions, green peppers, cucumbers, and olives. Salad dressing is not included unless noted.
Good Choices
Veggie Delite®: 75 mg
Oven Roasted chicken: 360 mg
Rotisserie-Style Chicken: 360 mg
Tuna: 380 mg
Moderate Choices
Turkey Breast: 450 mg
Roast Beef: 460 mg
Subway Club®: 580 mg
Black Forest Ham: 580 mg
Not Great Choices (but potentially better than a sandwich)
Sweet Onion Chicken Teriyaki (includes Sweet Onion dressing): 630 mg
Meatball Marinara: 780 mg
Items You Must Avoid
Chicken & Bacon Ranch Melt (includes Ranch dressing): 1000 mg
Spicy Italian: 1000 mg
SALAD DRESSINGS
You essentially have one choice: Oil & Vinegar (0 mg)
COOKIES
Peanut Butter cookies contain the lowest amount of sodium (110 mg per cookie) while White Chip Macadamia Nut cookies contain the most (130 mg per cookie). Best to avoid the cookies or limit yourself to one.
CHIPS
Why haven't we covered chips? Well, Subway does not have to publish nutritional information for chips because that information is printed on the bag. So be sure to read the back of the bag before you add them to your order.
This article is part of an ongoing series examining the menus of popular restaurant chains to discover low sodium options.
Click here to find more restaurants.
---
All nutritional information is believed to be accurate as of the writing of this article. LoSoFoodie.com recommends you review Subway's nutrition page for the most up-to-date values before placing your order. This website should not be considered medical advice. Always check with your doctor to understand your personal dietary needs.