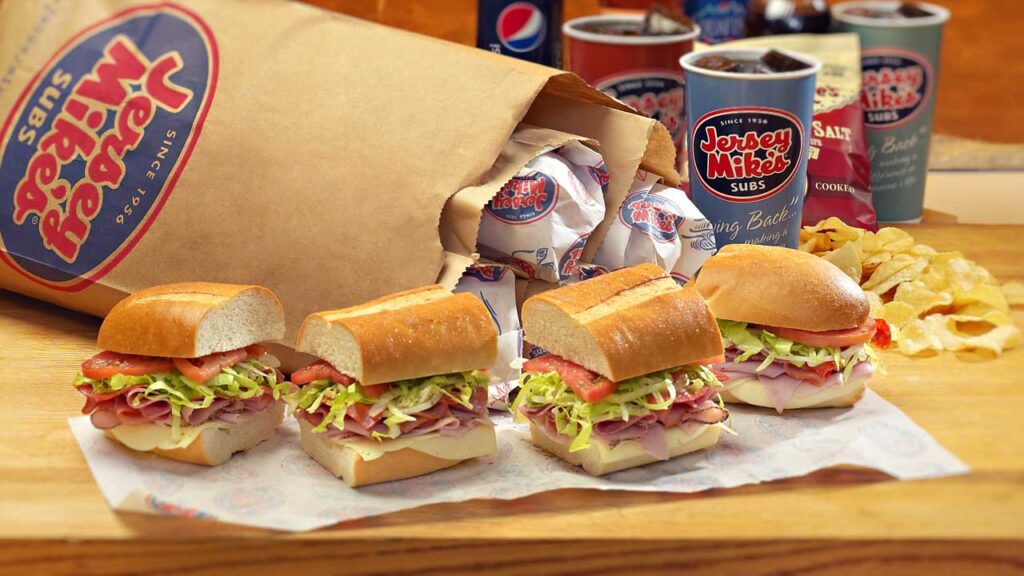 THE GUIDE TO WHAT YOU CAN EAT AND STAY LOW SODIUM AT JERSEY MIKE'S
Jersey Mike's, a fast-casual sub sandwich restaurant, promotes that they offer A Sub Above®. The company defines that as "serving authentic fresh sliced subs on freshly baked bread." For LoSo eaters, that phrase really could stand for, a sub above your sodium limit.
It is extremely difficult, though not totally impossible, to eat at Jersey Mike's while maintaining a low sodium lifestyle. Overall though, it is probably best for low sodium eaters to avoid Jersey Mike's if you are looking for a wide array of low sodium menu options.
A majority of the Jersey Mike's regular-sized subs clock in at over 1,000 mg of sodium. A regular size Buffalo Chicken Cheese Steak registers an eye-popping 3,513 mg of sodium. That is significantly more salt than a healthy person should have in an entire day! And it is more than double the daily limit for most LoSo eaters.
All sodium values in this article reflect the sodium content of a "regular" sub. It should be noted that Jersey Mike's considers only half of a regular sub to be a single serving. This simply does not reflect the way most adults would eat at Jersey Mike's. In fact, Jersey Mike's seems to know this since they call a 3.5-inch sub a "mini" and make it the cornerstone of a kid's meal.
Since I believe most adults would order a regular, and eat it as a single serving, I have listed all sodium content to reflect this.
CHEESE
One of the biggest drivers of sodium at Jersey Mike's – as is the case with most restaurants – is cheese.
Good Choices
Moderate Choices
Items You Must Avoid
BREAD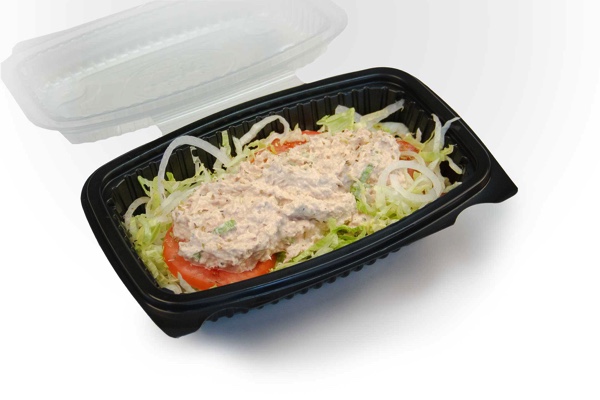 Good Choices
No Bread! Opt to get your sub in a tub. The tub is a salad (see picture below) and will save you hundreds of milligrams of sodium.
Moderate Choices
Gluten-Free Bread: 445 mg (Note – may not be available in all locations and there is an up-charge for this bread.)
Items You Must Avoid
All other bread options

Wheat: 640 mg
White: 670 mg
Seeded Italian: 665 mg
Rosemary Parmesan: 767 mg
COLD SUBS
This list represents only the ingredients of your cold sub. Sodium values below do not include bread or cheese unless noted.
Good Choices
Roast Beef: 80 mg
The Cancro Special: 275 mg
The Veggie with Provolone and Swiss: 601 mg (497 mg is from the Provolone – opt for just Swiss and your total drops to 104 mg). Note, this sandwich as made on the menu — despite being comprised of only vegetables and cheese — contains more saturated fat than any regular-sized cold sub on the menu.
Moderate Choices
There aren't really good moderate choices at Jersey Mike's. Below are the only other cold subs under 900 mg of sodium. For most low sodium eaters, these aren't even really an option.
Tuna: 748 mg
The Number 4: 837 mg
Turkey: 829 mg
Items You Must Avoid
Everything else! All other cold subs, with the exception of one, deliver over 1,000 mg of sodium. The exception? The Club Sub Supreme has only 975 mg of sodium. (Might as well be 1,000)
HOT SUBS
All of Jersey Mike's hot subs are made with American Cheese. That cheese typically adds roughly 730 mg of sodium, which puts the entire sandwich out of reach for most LoSo eaters…actually it is unhealthy sodium levels for any human. But there is one hot item you can get, in a tub, if you ask for no cheese or substitute Swiss:
Mike's Chicken Philly: 557 mg with no cheese / 610 mg with Swiss
VEGETABLES
Raw vegetables typically are low in sodium. So layer on the veggies. But avoid the following items from the veggie bar: pickles (115 mg of sodium for just 3 chips) and olives (25 mg of sodium for only 3 rings)
SALAD DRESSING
Jersey Mike's does not carry a line of salad dressings. They offer one choice: Oil & Vinegar, which clocks in at zero mg of sodium!
CHIPS
Jersey Mike's offers five bags of chips that are under 200 mg of sodium per bag:
Miss Vickie's Sea Salt: 125 mg
Miss Vickie's Jalapeño: 180 mg
Sun Chips Original: 180 mg
Baked Lays: 180 mg
Baked Lays Sour Cream & Onion: 190 mg
Most other chip offerings are between 200 – 300 mg. But the top three sodium-filled chips at Jersey Mike's are:
Fritos Chili Cheese 540 mg
Cheetos: 500 mg
Doritos Nacho: 360 mg
DESSERT
Macadamia Nut cookies contain the lowest amount of sodium (94 mg per cookie) while Chocolate Chip cookies contain the most (105 mg per cookie).
This article is part of an ongoing series examining the menus of popular restaurant chains to discover low sodium options. Click here to find more restaurants.
---
All nutritional information is believed to be accurate as of the writing of this article. LoSoFoodie.com recommends you review Jersey Mike's nutrition page for the most up-to-date values before placing your order. This website should not be considered medical advice. Always check with your doctor to understand your personal dietary needs.