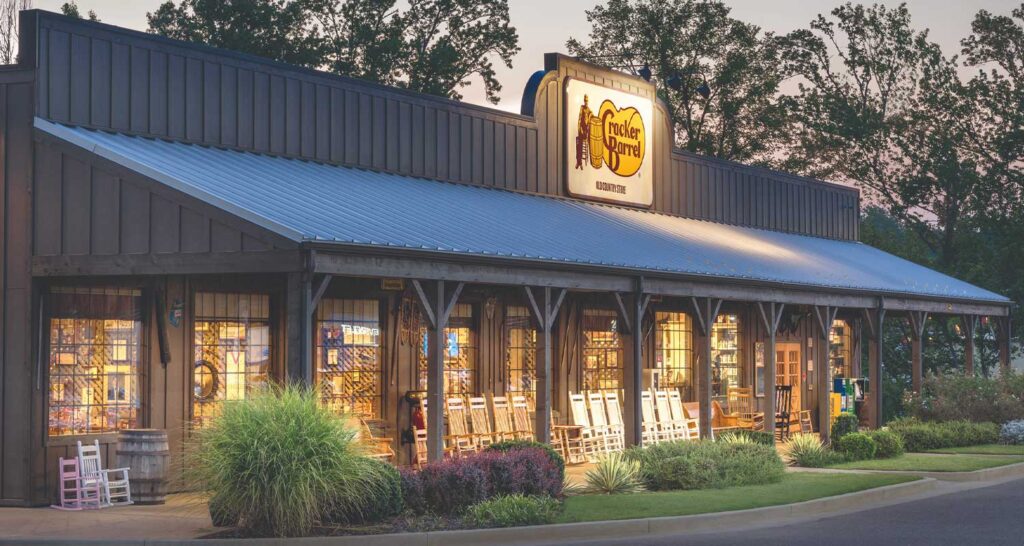 THE GUIDE TO WHAT YOU CAN EAT AND STAY LOW SODIUM AT CRACKER BARREL OLD COUNTRY STORE
Their rocking chair-covered front porches dot America, Cracker Barrel Old Country store specializes in down-home family recipes. But is it possible to eat low sodium at this cozy restaurant?
BREAKFAST
Good Choice
Fresh Start Sampler (two eggs plus fresh fruit and yogurt parfait): 230 mg
Old Timer's Breakfast (two eggs and grits): 280 mg – you can add fried apples but avoid adding other options like hashbrowns, bacon, or sausage because they will more than double your sodium intake
Eggs-in-the-Basket (two slices of sourdough with two eggs): 350 mg
Moderate Choices
There really isn't a lot of middle ground at Cracker Barrel, most breakfast items are either low in salt or deliver an alarmingly high amount of sodium for a single meal.
Items You Must Avoid
Bacon n' Egg Hashbrown Casserole: 1820 mg
Sunrise Sampler: 1870 mg
Three Buttermilk Pancakes: 2640 mg
The Cracker Barrel's Country Boy Breakfast with Country Ham: 3360 mg!
Spicy Deluxe Sandwich: 1810 mg
LUNCH n' DINNER
Low Sodium Choices
Hamburger Steak: 200 mg
Grilled Sirloin Steak: 210 mg
Moderate Choices
Lemon Pepper Grilled Rainbow Trout: 610 mg
Farm-Raised Catfish (2 grilled fillets): 650 mg
Haddock: 660 mg
Items You Must Avoid
Country Fried Shrimp: 2040 mg
Chicken Pot Pie: 2740 mg
Southern Fried Chicken – 4730 mg!! – that's more than 2 days worth of sodium
COUNTRY VEGETABLES n' SIDES
In the south, it is known as a "meat n three". That means you get a protein along with three sides. At Cracker Barrel some meals come with 2 sides, some with 3. Either way, tread carefully because some of these sides can contain more sodium than the main part of the meal.
Best Sides:
Fresh Seasonal Fruit: 0 mg
Mixed green Side Salad: 5 mg (opt for oil and vinegar as all other Cracker Barrel dressings exceed 375 mg for a 2 oz serving)
Fresh Steamed Broccoli: 10 mg
Fried Apples: 45 mg
Steak Fries: 70 mg
Whole Kernel Corn: 85 mg
Sweet Potato Casserole (Thursday only): 85 mg
Sweet Baby Carrots: 140 mg
Cole Slaw 170 mg
Mashed Potatoes: 170 mg
Saltiest Sides:
Boiled Cabbage: 460 mg
Breaded Fried Okra: 520
Mac & Cheese: 700 mg
Dumplins: 940 mg
Cornbread Dressing 960 mg
TREATS
Most desserts at Cracker Barrel offer a modest amount of sodium. But there is one big red flag: the Apple Dumplin. This sweet treat contains 1600 mg of sodium. So best to keep that off your table.
This article is part of an ongoing series examining the menus of popular restaurant chains to discover low sodium options. Click here to find more restaurants.
---
All nutritional information is believed to be accurate as of the writing of this article. LoSoFoodie.com recommends you review Cracker Barrel's nutrition page for the most up-to-date values before placing your order. This website should not be considered medical advice. Always check with your doctor to understand your personal dietary needs.