Restaurant food is often loaded with salt. Many restaurants use salt as a flavor enhancer and preservative in their dishes, which can make them very high in sodium. Consuming salty restaurant meals can have a major negative impact on your health.
If you think only people on a sodium-restricted diet should be concerned about the salt found in restaurant meals, think again. Many popular restaurants are serving up frighteningly unhealthy amounts of salt in their meals. In some cases, a single meal can contain more than double a person's maximum daily recommended salt intake.
RELATED ARTICLE: 6 Benefits of a Low Sodium Diet
The recommended daily limit for sodium intake varies depending on a person's age, health status, and other factors. However, in general, most adults should consume no more than 2,300 milligrams of sodium per day. This is roughly equivalent to one teaspoon of salt. Consuming too much salt can lead to a range of health problems such as high blood pressure, stroke, and heart disease.
Reviewing Restaurant Nutritional Information
I reviewed nutritional information from some of the biggest restaurant chains to discover who is serving up the salty restaurant meals. The nutritional information listed below comes directly from the restaurant's website. What I found was very disturbing because all of these meals exceed your daily limit of salt!
When you see a meal with a "% of Daily Value" over 100%, it means that meal has more salt than the average person should consume in an entire day. In several cases these dishes contain more than two days' worth of salt…those are the meals that say 200%. And yes, there is one that comes close to 300%.
Restaurants would contend that consumers have choices and that meals can be customized to fit one's individual needs. That's absolutely true. But when your meal has a starting point 2,800 mg of sodium, it would take a tremendous amount of customization to reduce the salt to 1,000 mg.
Here are 10 salty restaurant meals so salty that nobody should eat them: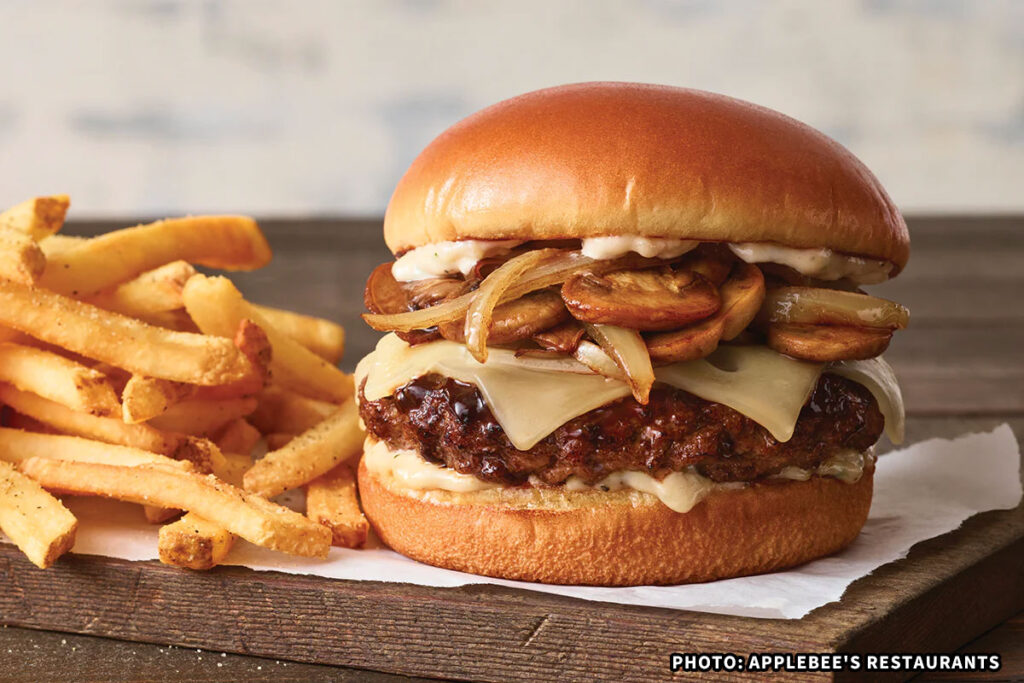 #10 Bourbon Street Mushroom Swiss Burger
Restaurant: Applebee's Bar & Grill
Sodium: 2830mg
% of Daily Value: 123%
Nutritional information includes a side of fries.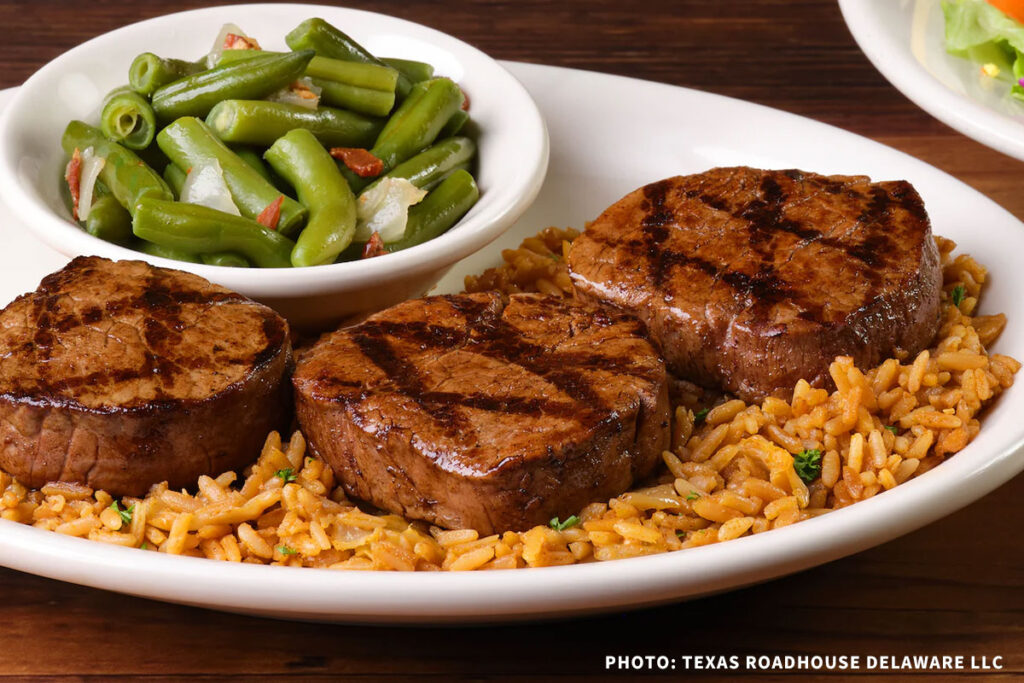 #9 Filet Medallions
Restaurant: Texas Roadhouse
Sodium: 2830mg (does not include sides)
% of Daily Value: 123%
This dish comes with two side items. The green beans (shown in the picture) have 1070 mg of sodium, a baked potato clocks in at 1950 mg, and steak fries contain 1970 mg. Say you chose green beans and steak fries, your meal would contain over 5,800 mg of salt!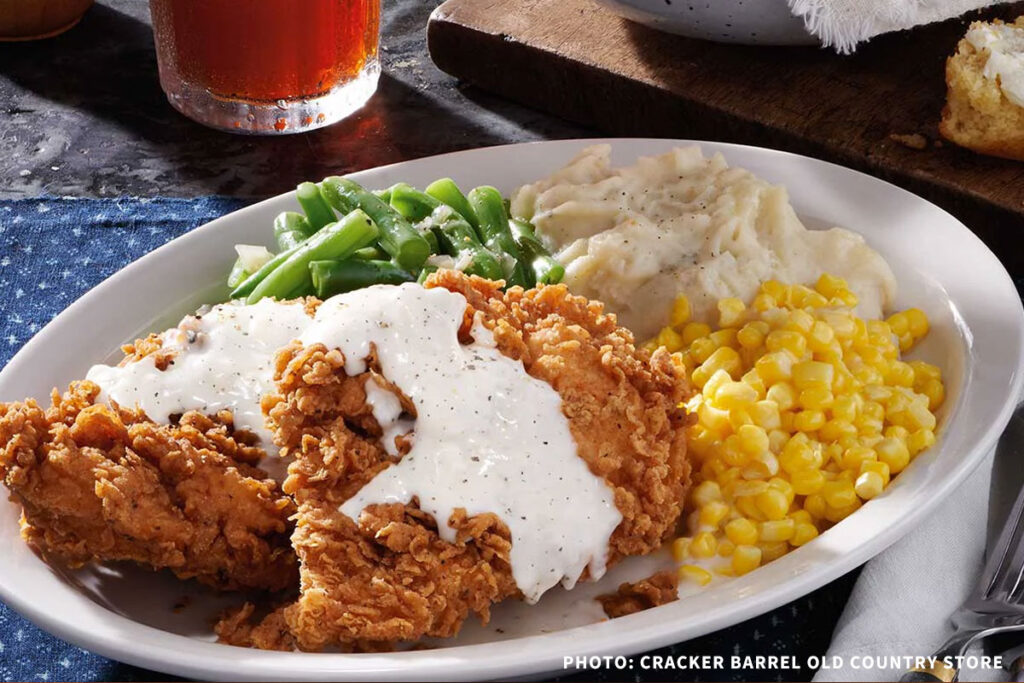 #8 Chicken Fried Chicken
Restaurant: Cracker Barrel
Sodium: 2910 mg (does not include sides)
% of Daily Value: 126%
Served with your choice of two or three sides plus biscuits or cornbread. The meal, as pictured with three sides would be 3,475 mg of sodium. If you chose biscuits, that adds 620 mg to your total. While cornbread would increase your overall total by 1120 mg of sodium.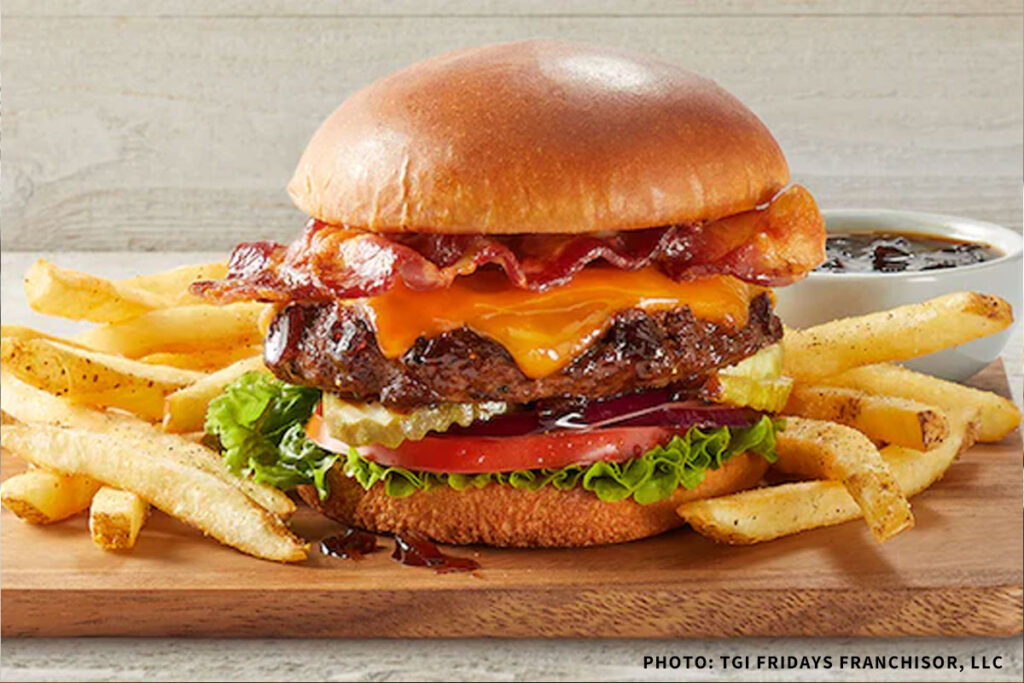 #7 Fridays Signature Whiskey Glazed Burger
Restaurant: TGI Fridays
Sodium: 3150 mg (does not include fries)
% of Daily Value: 136%
Traditionally served with seasoned fries (+230 mg of sodium) but you can choose a different side item. Mashed potatoes add 560 mg of sodium while Lemon Butter Broccoli adds 800 mg.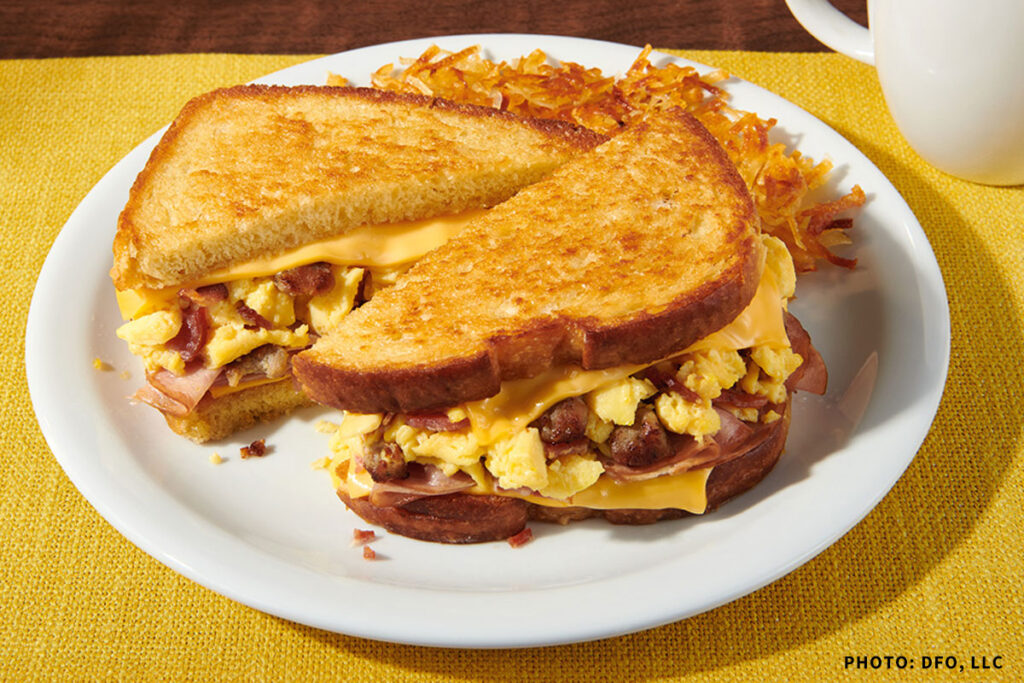 #6 The Grand Slamwich® with hash browns
Restaurant: Denny's
Sodium: 3410 mg
% of Daily Value: 148%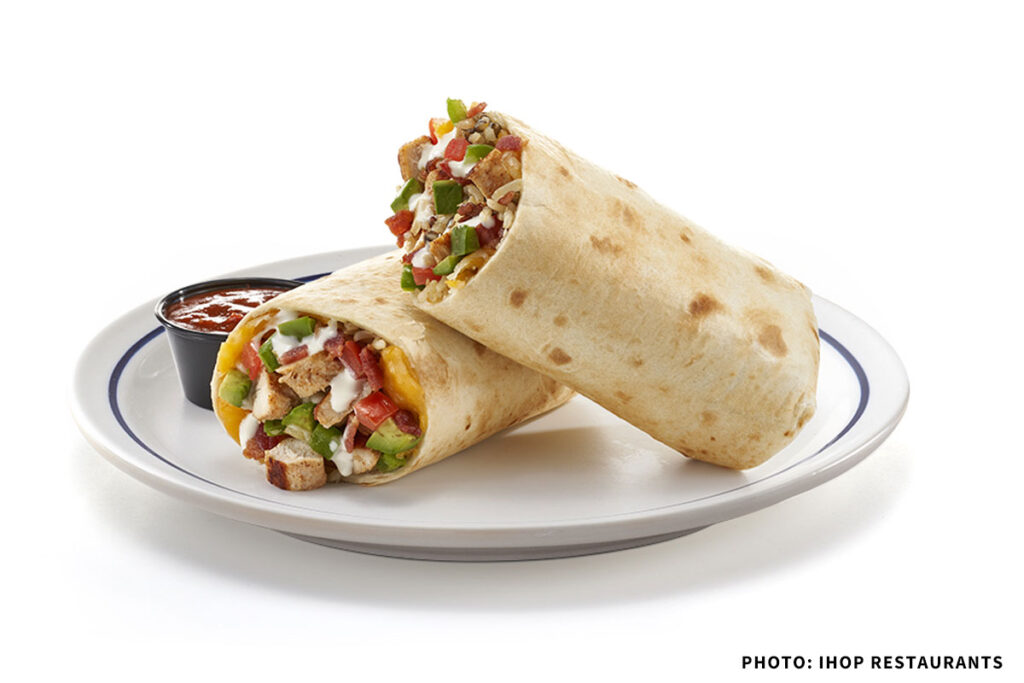 #5 New Mexico Chicken Burrito
Restaurant: IHOP
Sodium: 3560mg (burrito only; no sides)
% of Daily Value: 155%
The burrito is served with a side of salsa (+130 mg of sodium) and a side item. Options include fries (+1170 mg), loaded mashed potatoes (+1130 mg) or onion rings (+1130 mg)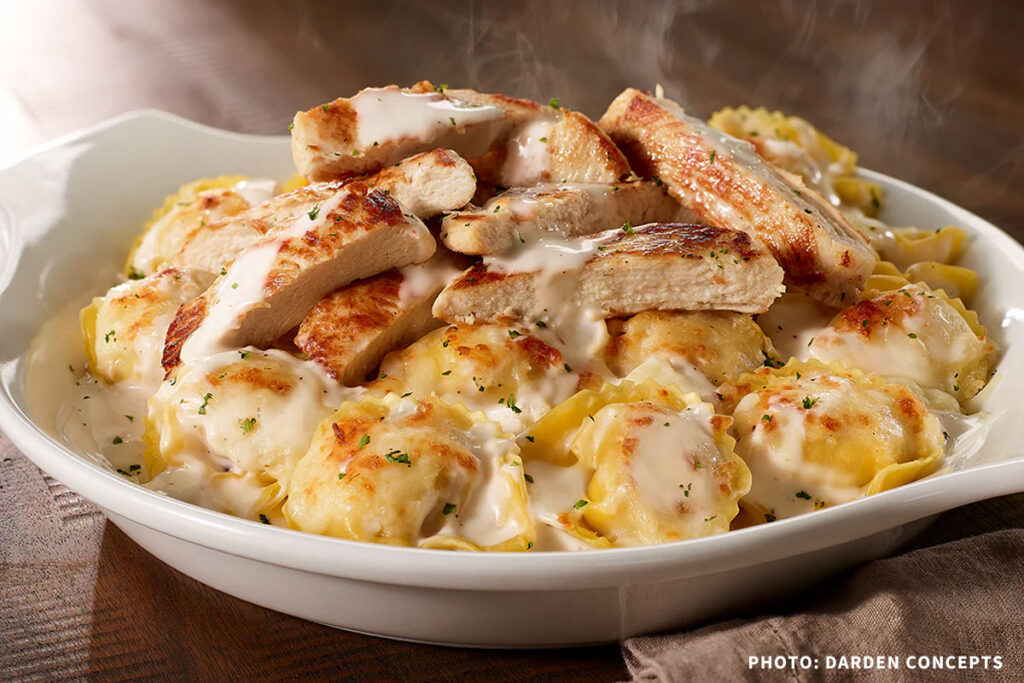 #4 Chicken Tortelloni Alfredo
Restaurant: Olive Garden
Sodium: 3720 mg
% of Daily Value: 161%
If you partake of Olive Garden's breadsticks, you will be consuming an additional 460 mg of sodium per breadstick with garlic topping.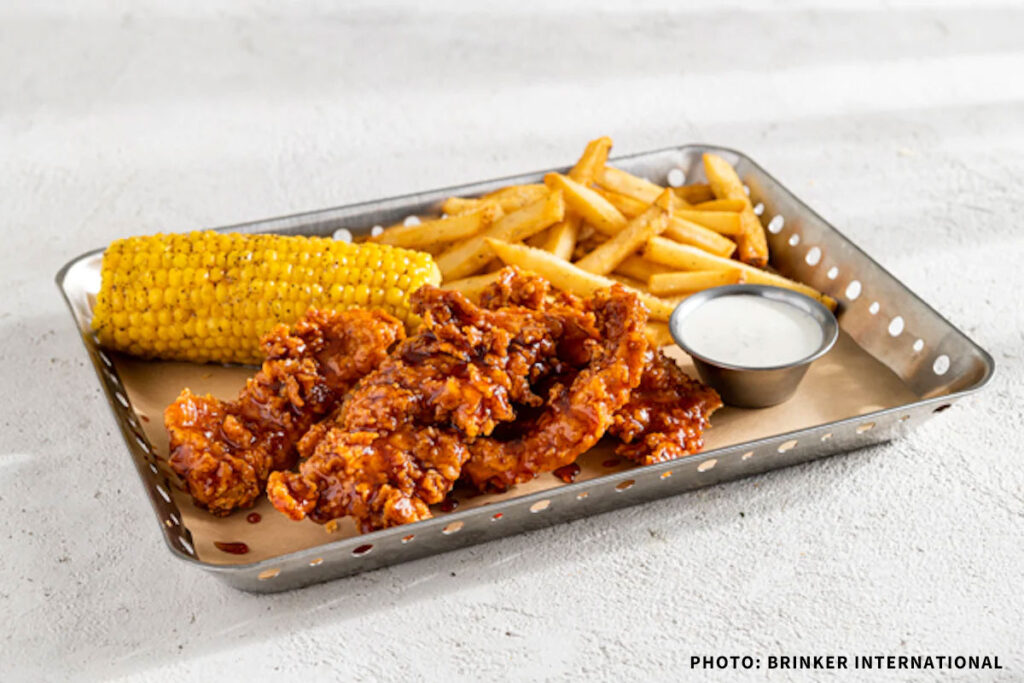 #3 Crispy Honey-Chipotle Chicken Crispers®
Restaurant: Chili's
Sodium: 4990 mg
% of Daily Value: 213%
The sodium content above is for the meal as served, which means the 4900 mg of sodium is inclusive of the corn and fries.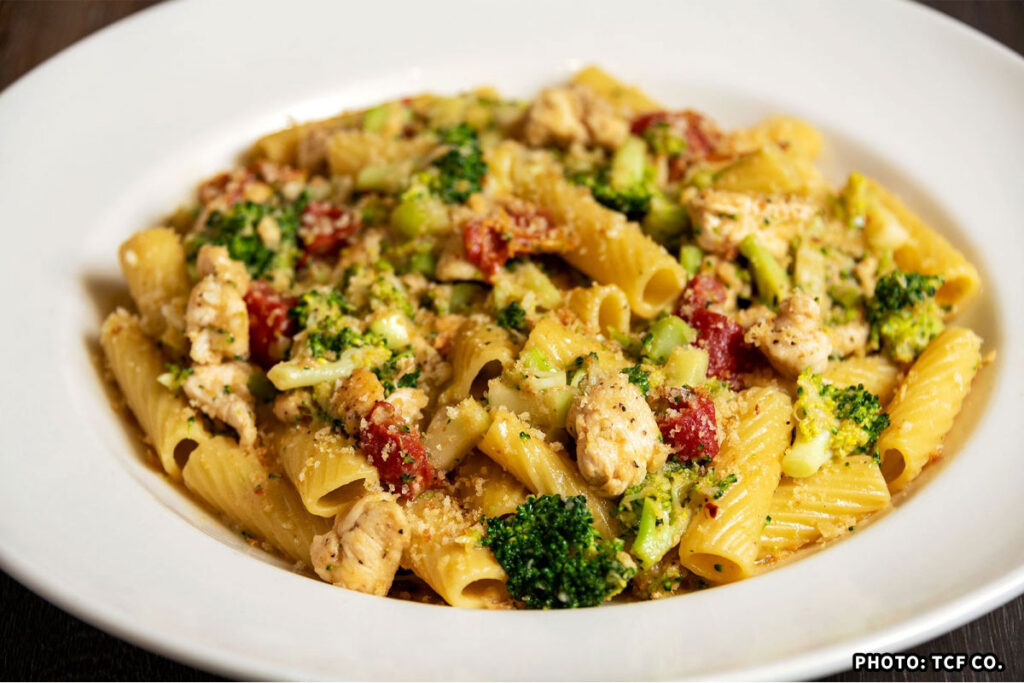 #2 Chicken and Broccoli Pasta
Restaurant: The Cheesecake Factory
Sodium: 5640mg
% of Daily Value: 245%
This meal contains almost two and a half days' worth of salt!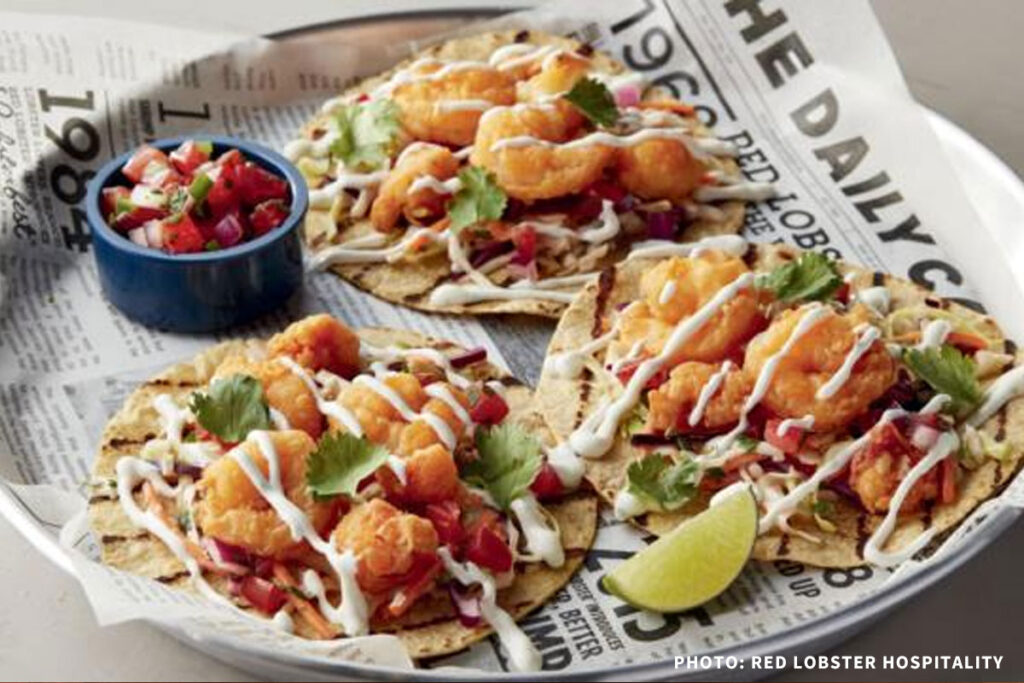 #1 Lobster & Shrimp Tacos
Restaurant: Red Lobster
Sodium: 6620mg
% of Daily Value: 288%
This meal has a whopping amount of salt. In fact, it is almost three days' worth of sodium in a single sitting. And if you reach for one of those famous Red Lobster Cheddar Bay Biscuits, you add 380 mg of salt to your meal.
---
Sources:
#10: https://www.applebees.com/en/nutrition/info
#9: https://www.nutritionix.com/texas-roadhouse/portal
#8: https://guestrelations.crackerbarrel.com/s/article/Nutrition-Allergens
#7: https://tgifridays.com/wp-content/uploads/2022/08/Nutritionals_0622_07272022-1.pdf
#6: https://www.dennys.com/sites/default/files/2021-09/Sept_2021_Core_Nutrition_Guide.pdf
#5: https://www.ihop.com/en/nutrition/info
#4: https://media.olivegarden.com/en_us/pdf/olive_garden_nutrition.pdf
#3: https://www.chilis.com/media/docs/chilis-nutrition-menu-generic
#2: https://www.thecheesecakefactory.com/sites/default/files/2021-10/The-Cheesecake-Factory-Nutritional-Guide.pdf
#1: https://www.redlobster.com/nutrition-tools
Information presented above was known to be accurate, based on the source material cited above, on date of publication: April 14, 2023. Always confirm nutritional information before going to a restaurant as menu options and ingredients change.