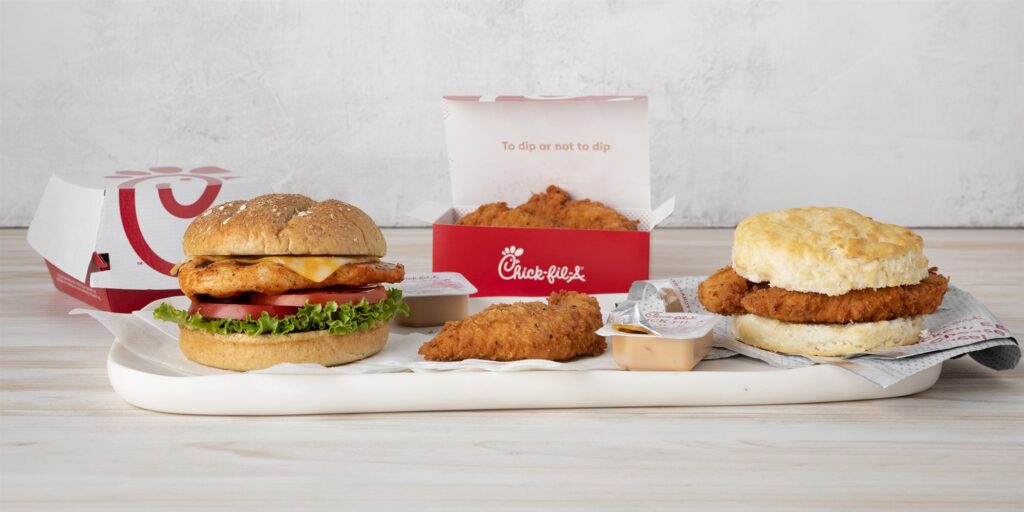 YOUR GUIDE TO EATING LOW SODIUM AT CHICK-FIL-A
What are the best menu options to eat low sodium at Chick-fil-A?
"We didn't invent the chicken, just the chicken sandwich." That's the slogan of Atlanta-based Chick-fil-A. Well, they definitely invented one mighty salty chicken sandwich.
Their flagship item, the Chick-fil-A® Chicken Sandwich clocks in at a whopping 1400 mg of sodium. Add medium fries and one of their dipping sauces to that sandwich and the total balloons to approximately 1,840 mg. That number fluctuates slightly based on your selection of sauce (read on to find a personal epiphany from your author).
But does that mean it is impossible to eat low sodium at Chick-fil-A? Absolutely not! You can find a few low(er) salt items on the Chick-fil-A menu, you just have to look a bit deeper.
ENTREES
Good Choice
Grilled Nuggets: 4 count = 220 mg, 6 count = 330 mg, 8 count = 440 mg
Moderate Choices
Grilled Chicken Sandwich = 680 mg (lose the bread and you'll lower that number)
Items You Must Avoid
Chick-fil-A® Deluxe Sandwich: 1640 mg
Spicy Chicken Sandwich: 1670 mg
Spicy Deluxe Sandwich: 1810 mg
SALADS
Why are we looking at salads? One normally thinks about salads as a healthy option. Well, at Chick-fil-A there's a way to ruin that healthy meal. For example, the Cobb Salad with Nuggets has 1700 mg of sodium. That's worse than the chicken sandwich! So stick to the Cobb Salad with no chicken. That only has 490 mg of sodium.
Better yet, order the grilled market salad with no chicken. That plate registers only 160 mg of sodium meaning you can splurge on some dressing. Their lowest sodium salad dressings are Light Balsamic Vinaigrette Dressing (360 mg) and Fat-Free Honey Mustard Dressing (330 mg).
Watch out for the Avocado Lime Ranch Dressing and the Creamy Salsa Dressing as they are salt monsters hiding in plain sight. The Avocado will add 520 mg of sodium to your salad while the Salsa piles on 630 mg of salt.
BREAKFAST
Low Sodium Choices
Fruit Cup: 0 mg
Greek Yogurt Parfait (with cookie crumbs or granola): 85 mg
Moderate Choices
Sunflower Multigrain Bagel with Cream Cheese: 460 mg
Sunflower Multigrain Bagel: 340 mg
Items You Must Avoid
Hash Brown Scramble Bowl: 1340 mg
Sausage, Egg & Cheese Biscuit: 1540 mg
Hash Brown Scramble Burrito: 1750 mg
SIDES
Best Sides:
Kale Crunch Side: 140 mg
Side Salad: 170 mg
Chick-fil-A Waffle Potato Fries®: Small 190 mg, and Medium 240 mg
Waffle Potato Chips: 250 mg
Saltiest Sides:
Cup of Chicken Noodle Soup: 1040 mg
Mac & Cheese: 1190 mg
DIPPING SAUCES
Part of the fun of a Chick-fil-A meal is the dipping sauces. Heck, the Polynesian Sauce lovers are practically a cult. Your author is not a member of the Polynesian Sauce Brigade. However, prior to my stroke, I used to be a huge fan of their Zesty Buffalo Sauce. I'd put two packets on my chicken sandwich. That, by the way, would add 780 mg of buffalo flavored sodium to a 1400 mg sandwich for a whopping total of 2,180 mg of salt for a single meal. Let's just say doing research for this article was eye-opening.
Here's the sodium content for Chick-fil-A's lineup of dipping sauces:
Barbecue Sauce: 200 mg
Chick-fil-A® Sauce: 170 mg
Garden Herb Ranch Sauce: 220 mg
Honey Mustard Sauce: 150 mg
Honey Roasted BBQ Sauce: 75 mg – LOW SODIUM WINNER!
Polynesian Sauce: 210 mg
Sweet and Spicy Sriracha Sauce: 380
Zesty Buffalo Sauce: 390 mg
TREATS
Most of the treats at Chick-fil-A have moderate sodium content. The three lowest sodium counts are the Chocolate Chunk Cookie, the Vanilla Milkshake, and the Chocolate Milkshake. All three are under 400 mg of sodium and in the case of the cookie, that value is only 210 mg. So by themselves, they aren't too bad but depending on your meal these sweet treats could push your overall total into the high territory.
This article is part of an ongoing series examining the menus of popular restaurant chains to discover low sodium options.
Click here to find more restaurants.
---
All nutritional information is believed to be accurate as of the writing of this article. LoSoFoodie.com recommends you review Chick-fil-A's nutrition page for the most up-to-date values before placing your order. This website should not be considered medical advice. Always check with your doctor to understand your personal dietary needs.