An easy low sodium lemon bread recipe perfect for breakfast, brunch, or dessert! A moist lemon bread with a sweet lemon glaze is the perfect summertime treat. It has the perfect balance of tart and sweet flavors. This recipe is quick and easy meaning you'll have a low salt pound cake bursting with citrus lemon flavor and topped with a shell of sweet lemon glaze in no time.
Make this a lemon poppy seed loaf by adding in some poppy seeds. Not everyone loves them, so I typically leave them out. But make this your own!
The icing on top of the pound cake adds a whole other level of lemon flavor. This sweet and zingy layer is better if you take the time to apply it in stages. Details are in the notes section below. But if you are pressed for time, don't worry, it will still be tasty any way you apply it!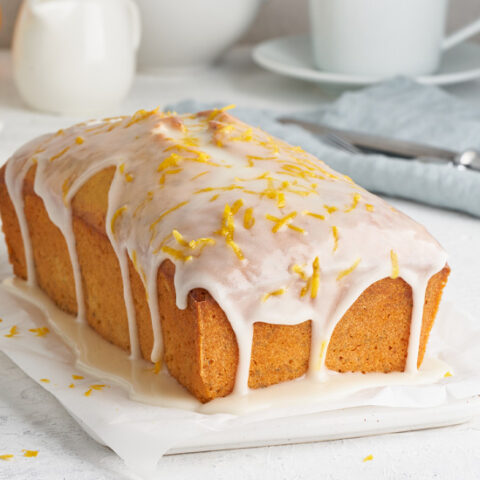 Low Sodium Lemon Pound Cake
Additional Time:
20 minutes
Total Time:
1 hour
10 minutes
An easy low sodium lemon bread recipe perfect for breakfast, brunch, or dessert!
Ingredients
FOR THE POUND CAKE
1 and 3/4 cups of all-purpose flour
2 teaspoons of no salt baking powder
1/2 cup of canola (or vegetable) oil
1 cup of white granulated sugar
1 cup of light sour cream
1/4 cup of fresh lemon juice
1 tablespoon of lemon zest
2 large eggs
2 teaspoons of vanilla extract
1 tablespoon of poppy seeds (optional)
FOR THE GLAZE
1 cup of confectioners' sugar
2 tablespoons of fresh lemon juice
1 tablespoon of milk
Zest of one lemon
Instructions
Spray an 8x14 inch loaf pan with a non-stick spray that contains flour. Preheat oven to 350 degrees.
In a large bowl, whisk together flour, sodium-free baking powder, and poppy seeds (if using). Set aside.
In a separate bowl beat together oil, sugar, sour cream, lemon juice, lemon zest, eggs, and vanilla until fully combined.
Add wet ingredients to the dry ingredients and mix until just combined. Don't overmix!
Pour batter into prepared pan.
Bake for 40 to 50 minutes, or until a tester inserted in the center comes out clean. If needed, tent with foil for the last 15-20 minutes of baking to prevent excess browning on top of the bread.
Cool in pan on a wire rack for about 20 minutes. Remove loaf and let cool completely on the rack before topping with glaze.
Once the bread has cooled, whisk together the powdered sugar and lemon juice. If the glaze is too thick, add more lemon juice as needed. If the glaze is too thin, add more powdered sugar.
Pour the glaze on the bread and spread it around to fully cover the top of the bread. Sprinkle fresh lemon zest across the top while the glaze is still wet. Allow the glaze to harden for 15-20 minutes.
Notes
To get a great thick layer of glaze, try glazing in 3 steps. Use the first third of your glaze to cover the loaf when it is first cooled. Then let the glaze set; about 10-20 minutes at room temperature. Next, add the second third of your glaze. Allow glaze to set again. Finally, add the final third of your glaze to the bread and let cool completely.
Use greek yogurt instead of sour cream for a little more protein.
Once you mix the dry ingredients with the wet, do not over mix. If you mix the batter too much your cake will be very dense.
Nutrition Information
Yield

10
Serving Size

1
Amount Per Serving
Calories

222
Total Fat

5g
Saturated Fat

2g
Trans Fat

0g
Unsaturated Fat

2g
Cholesterol

45mg
Sodium

21mg
Carbohydrates

42g
Fiber

1g
Sugar

31g
Protein

4g
Nutritional information is provided as an estimate. Nutritional content may vary due to several factors such as how much of an ingredient is used vs. how much will actually be eaten, brand differences, and more. To ensure the most accurate nutritional information, the reader should make calculations based on the ingredients actually used, using their own preferred method, or consulting with a licensed nutritional expert. This Website is not intended as a source of nutritional or food safety advice, and its readers assume full responsibility for any decisions made regarding their own health and safety. Nutritional information calculated by Nutritionix