Here's a recipe for classic Zucchini Bread that is low in sodium, sweet, and incredibly moist. Using applesauce makes this homemade low sodium zucchini bread super moist. It really is the perfect zucchini quick bread recipe that fits into a low sodium lifestyle. In fact, the only items with any sodium are the eggs and a trace amount in the zucchini.
Summer is zucchini season and, for me, the thought of zucchini bread brings back memories of my grandmother baking zucchini bread. My grandmother, Marletta, had a garden in her backyard. I'd constantly want to check to see if the zucchini was ready to be picked, and like any good grandma, she would oblige me…even though she knew vegetables don't ripen between lunch and dinner.
But once that zucchini was ready, Marletta would bake up some delicious zucchini bread. Unfortunately, nobody can find her recipe and my grandma is no longer around to share her knowledge. But I do know she was using applesauce as a sweetener long before others. So I think she would appreciate that touch.
I call for two different flours in this recipe: half all-purpose flour and half bread flour. I like mixing in some bread flour because, well, this is bread. Plus bread flour has some protein that gives it a nice chew. But there's no need to worry if you don't have bread flour at home; just use 3 cups of all-purpose flour.
Let's talk vanilla for a second. There's vanilla and then there's VANILLA. On this website, I like to stress affordability because I want people to know that you can live a low sodium lifestyle without having to spend your whole paycheck on groceries. However, sometimes you feel like splurging, and I like to splurge on quality vanilla. I'm a big fan of the Nielsen-Massey brand of vanilla. It is a bit pricey, but I feel like it is worth it. But if that splurge isn't for you, Watkins All Natural Baking Vanilla is a quality choice at about half the cost of Nielsen-Massey.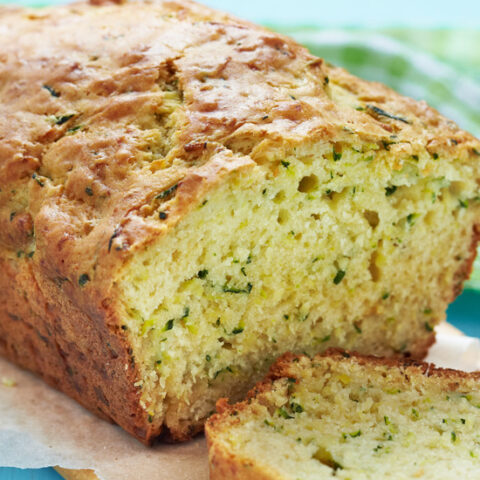 Low Sodium Zucchini Bread
Always popular, zucchini bread is one of the easiest recipes you can make. This is a favorite, tried-and-true low sodium zucchini bread recipe.
Ingredients
3 eggs
1 cup of canola oil
1 cup of unsweetened applesauce
1 cup of sugar
2 teaspoons of vanilla extract
1 1/2 cups of all-purpose flour
1 1/2 cups of bread flour
2 teaspoons of no salt baking powder
1 tablespoon of ground cinnamon
2 cups of shredded zucchini
Instructions
Spray two 8x14 inch loaf pans with a non-stick spray that has flour. Preheat oven to 325 degrees.
In a large bowl, add flour, no salt baking powder, and cinnamon. Whisk together until mixed.
Beat eggs, oil, vanilla, applesauce, and sugar together by hand in a large bowl or using a stand mixer until everything is well combined.
Add dry ingredients to the creamed mixture and beat well.
Fold in zucchini until well combined. Pour batter into prepared pans.
Bake for 40 to 60 minutes, or until a tester inserted in the center comes out clean.
Cool in pan on a wire rack for about 20 minutes. Remove loaf and let cool completely on the rack before attempting to cut.
Notes
The easiest way to shred your zucchini is using a box grater. Once you are done shredding, very lightly blog the zucchini with a couple of paper towels. Do not squeeze the moisture out, just give it a light blot to rid some of the excess moisture.
Many zucchini bread recipes call for nuts. Personally, I do not care for nuts in loaves of bread because the nuts tend to dry things out. But if you crave some in your zucchini bread, have at it! Just add 1 cup of finely chopped walnuts to this recipe.
Recommended Products
As an Amazon Associate, I earn from qualifying purchases. For complete information please read the disclosures page (link at the bottom of this page).