These low sodium lemon cookies have a robust lemon flavor with a sweetness to balance that tart citrus punch. They bake up soft and dense rather than cakey. Who doesn't love a cookie thick enough to sink your teeth into? If you like lemon, you're going to love these delicious lemony cookies.
Hands down, this is my favorite cookie. My whole family likes it! I'll admit this recipe has a few more steps than I usually prefer. I like quick straightforward recipes. If I come across a recipe that has to chill in the refrigerator, as this recipe does, I usually skip over it. But this recipe is totally worth it.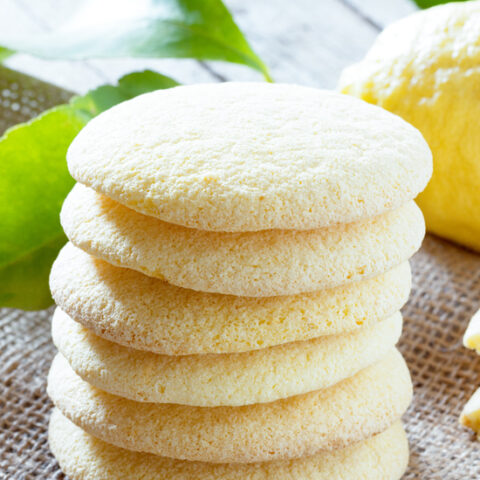 Low Sodium Lemon Sugar Cookies
Additional Time:
30 minutes
Delicious low salt lemon sugar cookies.
Ingredients
2 3/4 cups all-purpose flour
1 teaspoon of no sodium baking soda
1/2 teaspoon no sodium baking powder
Grated zest of 2 lemons
Juice from 2 lemons
1 1/2 cups of granulated sugar
2 sticks unsalted butter, at room temperature, cut into chunks
1 large egg, at room temperature
2 teaspoons of vanilla
Sanding sugar to top cookies (optional)
Instructions
Preheat oven to 350 degrees.
Whisk the flour, baking soda, and baking powder together in a medium-sized bowl.
Finely grate the zest of two lemons and set aside. Then squeeze the juice from those lemons into a separate bowl and set it aside.
Put your sugar into a large bowl and add the zest. Now use your fingers to mash the sugar and zest together until the sugar is moist and fragrant.
Add sugar zest mixture and butter into the bowl of a stand mixer and use the paddle attachment to beat on medium speed until the mixture is smooth. This will take approximately two minutes.
Beat in the egg, vanilla extract, and lemon juice until well combined.
Turn off the mixer and add half of the dry ingredients. Mix on low speed until they are almost completely incorporated together. Scrape the sides of the bowl with the mixer off, then add the remaining dry ingredients. Beat on low speed until fully incorporated and the dough comes away from the sides of the bowl.
Refrigerate cookie dough for 20 to 30 minutes to stiffen the dough. (If you skip this step your dough will be tacky and difficult to scoop out into balls)
Using a cookie scooper, scoop out even portions of the dough and place them onto a baking sheet lined with either parchment paper or a silicone baking mat. Be sure to leave about 2" between each dough ball.
Gently press down to flatten the top of the cookie.
Sprinkle with sanding sugar. (Optional but highly recommended)
Bake in a 350-degree oven for 12 minutes, rotating the pan at the 6-minute mark.
Once cookies are done, let them cool on the cookie sheet before you transfer them to a cooling rack. If you try to transfer them while they are still hot, they will fall apart.
Notes
I think these cookies are phenomenal as is, but if you want to make them really out of this world then sprinkle each one with a generous pinch of sanding sugar before putting them into the oven. The large sugar crystals will give your cookies a bit of crunch without compromising that soft inside. They even make yellow sanding sugar if you want to enhance that lemony look.
DO NOT skip the step of mashing the zest and sugar together! I know if I was looking at this recipe for the first time, I would think, "I can skip over that." But don't skip it. Trust me, you'll be glad you took a few minutes to really marry those two ingredients. It really enhances the lemon flavor throughout the cookie and I believe it is the true secret to this recipe.
Recommended Products
As an Amazon Associate, I earn from qualifying purchases. For complete information please read the disclosures page (link at the bottom of this page).
Nutrition Information
Yield

36
Serving Size

1 cookie
Amount Per Serving
Calories

126
Total Fat

6g
Saturated Fat

3g
Trans Fat

0g
Unsaturated Fat

2g
Cholesterol

19mg
Sodium

2mg
Carbohydrates

18g
Fiber

1g
Sugar

10g
Protein

1g
Nutritional information is provided as an estimate. Nutritional content may vary due to several factors such as how much of an ingredient is used vs. how much will actually be eaten, brand differences, and more. To ensure the most accurate nutritional information, the reader should make calculations based on the ingredients actually used, using their own preferred method, or consulting with a licensed nutritional expert. This Website is not intended as a source of nutritional or food safety advice, and its readers assume full responsibility for any decisions made regarding their own health and safety. Nutritional information calculated by Nutritionix