Lemon poppy seed muffins are a classic treat. You'll enjoy this low salt muffin that is slightly crisp on the outside and ultra-moist on the inside.
Use fresh lemon juice! Yes, you could use bottled lemon juice but fresh lemon juice tastes better and will take your low sodium muffins to a whole new level. Fresh lemon juice is more tart, tangy, and packs so much more lemon flavor.
Want more lemon flavor? Add about half a teaspoon of lemon extract along with the juice and zest. This will give you a nice punch of lemon. But, be careful! An extract can be very overpowering so a little goes a long way.
To ensure your muffins are all the same size, I suggest using a cookie scoop to fill up the muffin tins. This takes the guesswork out of things. Why do you care if your muffins are a uniform size? Well, by making them all the same size you ensure they all cook at the same rate. This way you don't have one large undercooked muffin next to a small overcooked muffin.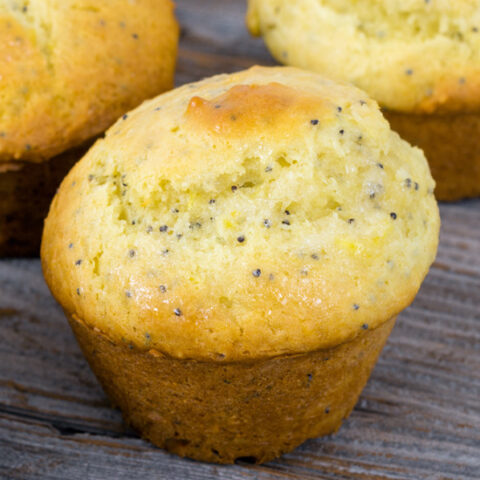 Low Sodium Lemon Poppy Seed Muffins
Here's a recipe for a low salt lemon poppy seed muffin that is slightly crisp on the outside and ultra-moist on the inside.
Ingredients
3 cups of all-purpose flour
1 cup of white granulated sugar
2 tablespoons of poppy seeds
1 tablespoon of sodium free baking powder
1 and 1/2 cups of low fat sour cream
2 tablespoons of fresh lemon juice
1 and 1/2 tablespoons of lemon zest
2 large eggs
8 tablespoons of unsalted butter, melted and cooled
Instructions
Spray a 12-cup muffin tin with a non-stick spray that contains flour. Preheat oven to 375 degrees.
Whisk flour, sugar, poppy seeds, and sodium free baking powder, together in a large bowl.
In a separate bowl, whisk sour cream, lemon zest, melted butter, and eggs until smooth. Be sure your butter has cooled otherwise it could scramble your eggs.
Gently fold the wet mixture into flour mixture until just combined. Do not overmix. If you overmix, the muffins will be dense.
Divide batter evenly among prepared muffin cups.
Bake for about 20 to 25 minutes until golden brown and a toothpick inserted in the center comes out clean.
Notes
Don't overmix your muffin batter!! Be careful not to overmix once you combine the wet and dry ingredients. If you overmix, you will create rubbery muffins. Gently stir until *just* combined. If there's a few small streaks of flour remaining, that's perfectly fine.
Recommended Products
As an Amazon Associate, I earn from qualifying purchases. For complete information please read the disclosures page (link at the bottom of this page).
Nutrition Information
Yield

12
Serving Size

1 muffin
Amount Per Serving
Calories

284
Total Fat

11g
Saturated Fat

6g
Trans Fat

0g
Unsaturated Fat

4g
Cholesterol

55mg
Sodium

43mg
Carbohydrates

42g
Fiber

1g
Sugar

17g
Protein

5g
Nutritional information is provided as an estimate. Nutritional content may vary due to several factors such as how much of an ingredient is used vs. how much will actually be eaten, brand differences, and more. To ensure the most accurate nutritional information, the reader should make calculations based on the ingredients actually used, using their own preferred method, or consulting with a licensed nutritional expert. This Website is not intended as a source of nutritional or food safety advice, and its readers assume full responsibility for any decisions made regarding their own health and safety. Nutritional information calculated by Nutritionix