The ultimate recipe low sodium brownies! Here's a recipe for fudgy, moist, low sodium brownies with perfectly crispy edges. By making brownies from scratch, you avoid the excess salt found in a boxed brownie mix. This recipe calls for basic pantry ingredients and is hardly more difficult – or time-consuming – than using a mix.
It is important to use Hain Pure Foods Sodium Free Baking Powder because a teaspoon of regular Baking Powder has over 500 mg of sodium. That is a lot of sodium!
Better chocolate chips = better brownies. This site stresses affordability and works to demonstrate that good food does not have to cost a fortune. But sometimes, it is ok to splurge a bit. One of the biggest secrets to making great brownies is using large, good-quality chocolate chips. So skip the Great Value or store brand chips and reach for the Ghiradelli.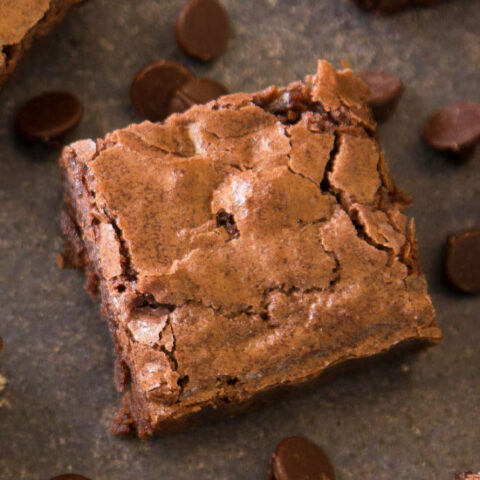 Low Sodium Brownies with Chocolate Chips
The ultimate recipe low sodium brownies! Here's a recipe for fudgy, moist, low sodium brownies with perfectly crispy edges.
Ingredients
10 tablespoons (1 and 1/4 sticks) of unsalted butter
1 and 1/4 cups of granulated sugar
3/4 cup of unsweetened cocoa powder
2 large eggs
1 teaspoon of vanilla extract
1/2 cup all-purpose flour
1/2 cup of chocolate chips
Instructions
In a large bowl, place the unsalted butter and melt in the microwave. Let stand on the counter for a few minutes until it has cooled just a bit. You'll be adding eggs soon and if your butter is scorching hot, you'll end up with scrambled eggs.
Add cocoa powder and sugar to the butter and beat on low speed until fully combined.
Stir in vanilla.
Add eggs, one at a time. Beat on medium for a total of 2-3 minutes until your batter begins to fluff up a bit.
Place your flour and Hain Pure Foods Sodium Free Baking Powder in a medium bowl and lightly whisk together. Now add the chocolate chips and stir together.
Add dry ingredients to the large bowl containing your wet ingredients and mix until just combined. Don't overmix!
Place your batter in an 8x8 baking dish sprayed with non-stick or a Nonstick Brownie Pan.
Bake on the top rack of a preheated 350-degree oven for 25-30 minutes or until an inserted toothpick inserted in the middle comes out with moist crumbs.
Notes
I'm not a fan of nuts in baked goods. But some people would vehemently disagree with me! Ha. If you are one of those people, feel free to add half a cup of chopped walnuts or pecans to the batter when you add the chocolate chips. Just make sure you use unsalted nuts.
Be patient! Wait for your brownies to fully cool before you cut into them. Letting them cool makes them gooier and fudgier, plus they will be more apt to hold together when you do slice them up.
Want a topping on your brownies? After your brownies have cooled, drizzle some melted chocolate or some melted peanut butter chips over the brownies.
It is better to pull them out too early than to leave them in too long. Remember, the residual heat in your brownies will continue to cook them after you take them out of the oven. So do not leave them in the oven too long otherwise you'll be stuck with dry brownies…and nobody likes a dry brownie!
Recommended Products
As an Amazon Associate, I earn from qualifying purchases. For complete information please read the disclosures page (link at the bottom of this page).
Nutrition Information
Yield

16
Serving Size

1
Amount Per Serving
Calories

141
Total Fat

10g
Saturated Fat

6g
Trans Fat

0g
Unsaturated Fat

3g
Cholesterol

42mg
Sodium

13mg
Carbohydrates

12g
Fiber

1g
Sugar

6g
Protein

2g
Nutritional information is provided as an estimate. Nutritional content may vary due to several factors such as how much of an ingredient is used vs. how much will actually be eaten, brand differences, and more. To ensure the most accurate nutritional information, the reader should make calculations based on the ingredients actually used, using their own preferred method, or consulting with a licensed nutritional expert. This Website is not intended as a source of nutritional or food safety advice, and its readers assume full responsibility for any decisions made regarding their own health and safety. Nutritional information calculated by Nutritionix