Lemon and blueberry is one of my favorite combinations. Store-bought muffins typically contain a high amount of both sugar and sodium. But this recipe will ensure you can have a tasty muffin without the excess sugar and salt. These low sodium muffins are soft, tender, and have an awesome lemon flavor.
You'll find recipes across the internet that have a glaze dripped across the muffin tops. This recipe opts for a small sprinkle of sanding sugar to create a nice crunchy top. Plus, by ditching the glaze you lower the overall sugar content!
The farmers market by my house has juicy, plump blueberries during the spring and summer months. But in the off-season, I use frozen blueberries from Walmart. I assure you, they taste just as good. So why not use the frozen kind all year? Well, I definitely could but I like supporting the local farmer that sets up a stand once a week in my neighborhood.
Remember, low sodium muffins don't rise like regular muffins. That's the cost of going low sodium…we lack that chemical reaction that makes the batter rise. But don't fear, the muffins still taste amazing. Just keep this in mind when you fill your muffin tins.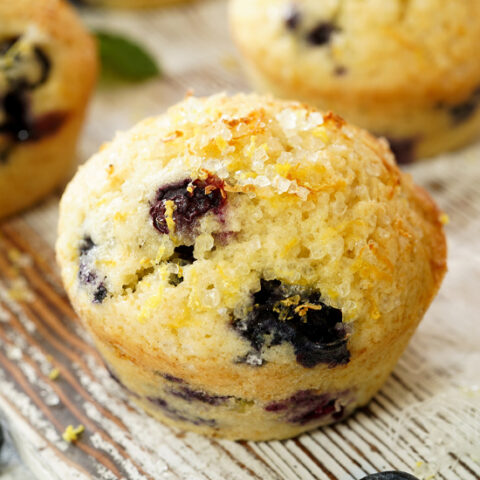 Low Sodium Lemon Blueberry Muffins
Lemon and blueberry is a refreshing and delicious combination. These low sodium muffins are soft, tender, and have an awesome flavor.
Ingredients
2 cups of blueberries (fresh or frozen)
2 cups + 3 tablespoons of all-purpose flour, divided
1 1/2 teaspoons of sodium-free baking powder
1 stick of unsalted butter, softened
1 cup of granulated sugar
2 large eggs
2 teaspoons of vanilla
1/2 cup of milk
1 tablespoon of fresh lemon juice
Zest of one lemon
Instructions
Preheat oven to 350 degrees. Spray your muffin baking pan with a non-stick spray containing flour.
In a small bowl place your granulated sugar and half of your lemon zest. Mix the two together with your fingers, pressing the zest into the sugar. This will release the oil of the zest, making a fragrant lemony sugar. Don't skip this step! It will ensure your muffins have a delicious lemon flavor.
In a separate bowl, toss blueberries with 3 tablespoons of flour until berries are coated. Set aside.
In a large mixing bowl - using either a hand mixer or a stand mixer - cream together butter and sugar until light and fluffy.
Add eggs, vanilla, milk, lemon juice and continue mixing until smooth.
In a medium bowl, whisk together flour, no-sodium baking powder, and sea salt (if using)
Fold in dry ingredients with a rubber spatula until just combined.
Fold in blueberries, being careful not to break the berries.
Fill muffin cups about 3/4 full of batter.
Optional: Sprinkle sanding sugar and zest from an additional lemon on top of the batter before placing them in the oven. This will give your muffins a crunch and an extra dose of lemon flavor.
Bake at 350º for 20 to 25 min, until a toothpick inserted into the center of a muffin comes out with only a few moist crumbs.
Let muffins cool for a few minutes in the muffin pan before removing. Place on a wire rack to completely cool. Be careful as the muffins will still be very tender!
Notes
This recipe yields about 12 muffins. You can get more or less based on the size of your muffin pan.
Prevent your blueberries from sinking to the bottom! Simply toss the berries in a couple of tablespoons of all-purpose flour. This light coating of flour will absorb some of the blueberry's liquid, making them less likely to sink to the bottom of your muffin.
If you are using frozen blueberries, you will want to defrost them slightly in the microwave. Place paper towels under and on top of the blueberries to absorb some of the water. This will help prevent your muffin batter from becoming runny.
Personally, I like adding a pinch of sea salt to my muffin batter. It gives the muffins a better rise and because the overall recipe is very low in sodium, a little pinch still keeps the sodium level low. However, the recipe below does not have the pinch of salt included. I'm just sharing the tip in case you want to try it out!
Recommended Products
As an Amazon Associate, I earn from qualifying purchases. For complete information please read the disclosures page (link at the bottom of this page).
Nutrition Information
Yield

12
Serving Size

1 muffin
Amount Per Serving
Calories

175
Total Fat

9g
Saturated Fat

5g
Trans Fat

0g
Unsaturated Fat

3g
Cholesterol

52mg
Sodium

38mg
Carbohydrates

23g
Fiber

1g
Sugar

20g
Protein

2g
Nutritional information is provided as an estimate. Nutritional content may vary due to several factors such as how much of an ingredient is used vs. how much will actually be eaten, brand differences, and more. To ensure the most accurate nutritional information, the reader should make calculations based on the ingredients actually used, using their own preferred method, or consulting with a licensed nutritional expert. This Website is not intended as a source of nutritional or food safety advice, and its readers assume full responsibility for any decisions made regarding their own health and safety. Nutritional information calculated by Nutritionix