Whether it is a picnic, family gathering, or a Master's watch party, low sodium egg salad is a delicious dish made with simple ingredients. Low salt egg salad also makes an eggcellent lunch, when severed on low sodium bread or in a lettuce wrap.
Here's the hardest part of making a low sodium egg salad: eggs have sodium. That's right, your main ingredient is the largest contributor of sodium to this dish. Each egg has 62 mg of sodium, which is the primary driver of the salt content.
Since we can't cut the eggs out of egg salad, we have to modify the other ingredients, like the mayonnaise, to trim some of the sodium content. The result is a reduced salt, low sodium dish!
BOILING YOUR EGGS
It is easy to make a perfect hard-boiled egg. It is also easy to overcook your eggs! The tell-tale sign of an overcooked egg is the appearance of dark green or grayish color around the yolk. You are probably thinking, I can deal with a slightly off-color egg. But the appearance of that color is also accompanied by a somewhat sulphuric taste. And that you can't…or shouldn't…deal with.
Here are some tips for ensuring you get that perfect bright yellow cooked yolk:
Use eggs straight from the fridge. Do not let them sit on the counter before going into the pan.
Ensure you have enough water in the pan. As a general rule, 6 eggs should be covered by at least an inch of water, while 7 to 12 eggs should be covered by at least 2 inches. This recipe calls for 8 eggs so use the 2-inch rule.
MASTER'S PARTY
Once a year, an elite group of golfers gathers at Augusta National for The Masters. One of the traditions at the tournament is affordable concessions. The Masters is well known for their legendary $1.50 egg salad sandwich. That's right, a $1.50 for a sandwich at one of the biggest sporting events of the year.
If you are hosting a Masters watch party at your house, why not serve up some egg salad. There's no need to charge your guests a dollar fifty for the sandwich…unless you want to! Ha. But you can add a little authentic flair you can serve your sandwiches in wax paper bags because that's exactly how they are served up in Augusta.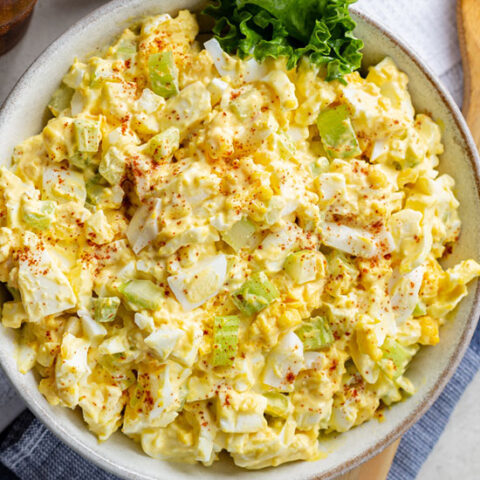 Low Sodium Egg Salad
Here's a recipe for egg salad that tweaks the ingredients to make the sodium content as low as possible. Whether you make a sandwich or lettuce wrap, you'll enjoy this tasty reduced salt meal!
Ingredients
8 eggs, straight from the refrigerator
1/2 cup of no salt added mayonnaise
1/4 teaspoon of onion powder
1/2 cup of celery, finely diced
For the No Salt Added Mayonnaise
1/4 cup of liquid egg substitute (ex: EggBeaters), at room temperature
2 1/2 tablespoons of distilled white vinegar
2/3 cup of canola oil (or neutral-flavored oil of your choice)
Instructions
Place the eggs in a single layer in a heavy saucepan and cover with cold water by at least one inch. Leaving the pot uncovered, turn the heat to high. As soon as the water comes to a boil, turn off the heat and cover. After 10 minutes, remove the cover and run cold water over the eggs for 1 minute. Set eggs aside to cool completely.
While your eggs are cooking, it is time to make your no salt added mayo. Place the egg substitute in a medium-sized bowl. Add the vinegar and whisk until frothy. Note: you could use a hand blender or small food processor here if you prefer.
Very slowly, begin adding the oil in a thin stream while whisking continuously. If the oil starts to build up, stop pouring and whisk vigorously until it is incorporated. Continue adding the oil while whisking until all the oil has been used.
Set aside 1/2 cup of mayo for egg salad and refrigerate the extra.
Cut cool eggs in half, remove the yolks and place them into a medium-sized bowl. Chop the whites and set them aside.
Add no salt added mayo to the bowl of yolks and mash together until completely smooth.
Add mustard and onion powder. Stir until fully incorporated.
Fold in egg whites and celery.
Notes
I'm a fan of green olive in my egg salad. Unfortunately, olives are pretty salty but I have found a solution. I get Pearls Reduced Sodium Pimiento Stuffed Manzanilla Olives and chop up four olives to put in my sandwich. That only adds 70mg of sodium to my meal.
Some additional add-ins could be finely diced onion or garlic powder.
Recommended Products
As an Amazon Associate, I earn from qualifying purchases. For complete information please read the disclosures page (link at the bottom of this page).
Nutrition Information
Yield

16
Serving Size

1
Amount Per Serving
Calories

125
Total Fat

12g
Saturated Fat

2g
Trans Fat

0g
Unsaturated Fat

10g
Cholesterol

93mg
Sodium

38mg
Carbohydrates

0g
Fiber

0g
Sugar

0g
Protein

4g
Nutritional information is provided as an estimate. Nutritional content may vary due to several factors such as how much of an ingredient is used vs. how much will actually be eaten, brand differences, and more. To ensure the most accurate nutritional information, the reader should make calculations based on the ingredients actually used, using their own preferred method, or consulting with a licensed nutritional expert. This Website is not intended as a source of nutritional or food safety advice, and its readers assume full responsibility for any decisions made regarding their own health and safety. Nutritional information calculated by Nutritionix