These no-salt roasted pumpkin seeds are simple to make and are addictingly good. This snack is perfect for a chilly fall day, ideal for a tailgate, or a great munchy to serve your Thanksgiving guests.
If you are carving a pumpkin for Halloween, don't throw away those leftover seeds! You can use the seeds from your jack-o-lantern to make this recipe. If you are using seeds directly out of the pumpkin, you will need to roast them. Check out the notes section below for roasting instructions. If you are like me and are using unsalted pre-roasted pumpkin seeds, you get to skip using the oven.
There are so many ways to enjoy these low sodium sweet and spicy pumpkin seeds. You could add them to a homemade trail mix, layer them on top of your morning bowl of oatmeal or add them to a salad. Of course, they are also great on their own as a snack on the go.
This recipe is fairly simple and is a great opportunity to bring your kids or your grandchildren in on the fun. It is a fun way to teach measuring and give them the chance to stir stuff together like a chef! They will enjoy having ownership in the process which will make the finished product so much sweeter.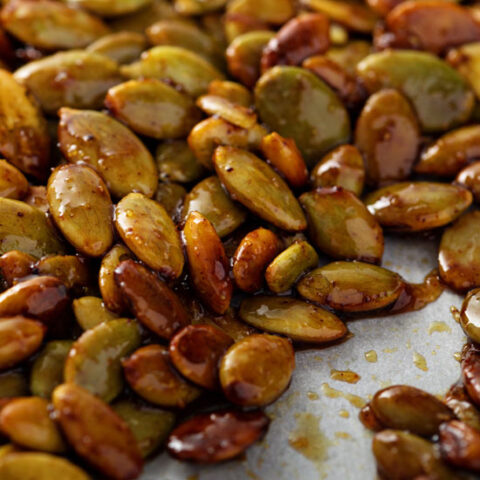 Salt Free Sweet and Spicy Pumpkin Seeds
Additional Time:
30 minutes
A sweet treat with a spicy kick that is perfect for fall, tailgates, or any time of the year! This recipe has no added salt and is super simple to make.
Ingredients
4 tablespoons (1/2 stick) of unsalted butter
4 cups of unsalted roasted pumpkin seeds
1 cup of light brown sugar
2 teaspoons of salt-free chili powder
1 teaspoon of cinnamon
1 teaspoon of pumpkin pie spice
Instructions
In a medium saucepan, melt butter over medium-high heat. Stir frequently.
Stir in brown sugar and chili powder. Combine until the sugar is completely dissolved, you do not want a grainy mixture!
Add pumpkin seeds to the pan and stir to completely coat all of the seeds.
Turn down the heat and allow the mixture to marry for a few minutes, gently stirring regularly. Low heat will allow the flavors to mix without starting the cooling process.
Spread onto a baking sheet lined with parchment paper. Let cool completely.
Notes
I used roasted pumpkin seeds I bought at the store. But if you are using unroasted seeds you'll need to bake them. Follow the directions above, but instead of letting them cool in the last step, you'll bake in a 300-degree oven for approximately 45 minutes or until crispy and golden brown. You will want to stir on occasion.
You can use pumpkin seeds in the shell or unshelled. Totally your preference. If you use pumpkin seeds in the shell, you may want to leave them on the stove a few minutes longer.
If you want to add a bit more kick, you could add a couple of shakes of tabasco sauce to the mixture
Recommended Products
As an Amazon Associate, I earn from qualifying purchases. For complete information please read the disclosures page (link at the bottom of this page).
Nutrition Information
Yield

16
Serving Size

1/4 cup
Amount Per Serving
Calories

260
Total Fat

17g
Saturated Fat

4g
Trans Fat

0g
Unsaturated Fat

11g
Cholesterol

8mg
Sodium

0mg
Carbohydrates

21g
Fiber

2g
Sugar

17g
Protein

9g
Nutritional information is provided as an estimate. Nutritional content may vary due to several factors such as how much of an ingredient is used vs. how much will actually be eaten, brand differences, and more. To ensure the most accurate nutritional information, the reader should make calculations based on the ingredients actually used, using their own preferred method, or consulting with a licensed nutritional expert. This Website is not intended as a source of nutritional or food safety advice, and its readers assume full responsibility for any decisions made regarding their own health and safety. Nutritional information calculated by Nutritionix